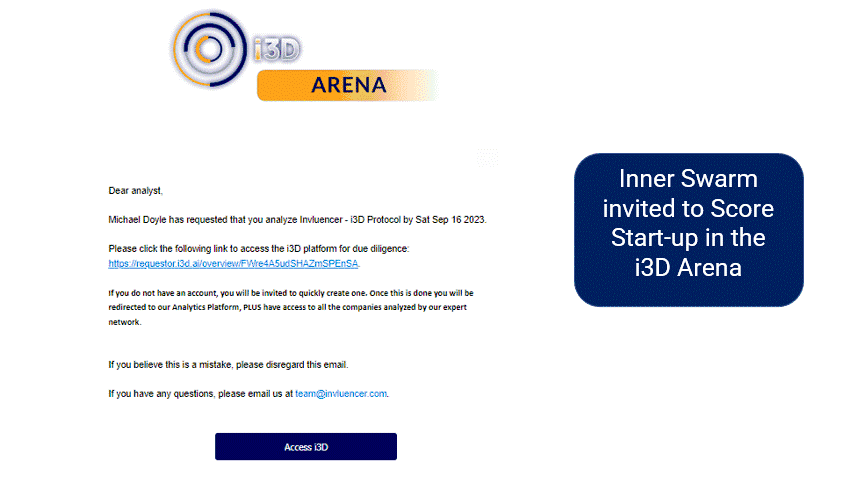 i3D Arena allows an Inner Swarm of the Network to conduct a deeper dive into the potential of a start-up
Features
i3D Arena allows an analyst a guided method to conduct a deeper dive into a start-ups potential for success
When projects are uploaded a proprietary algorithm instantly assigns a Score
Inner Swarm Experts scores are weighted and added to the final score
Coming soon – an Inner Swarm expert will be able to move up rankings based on our Reputation Management System
Benefits
Same system means Unified Scoring Methodology
Allows for unbiased and fear free scoring by expert
Start-up is anlysed in multiple areas and ranked against competition
Reports are encrypted and securely stored for investor data provenance
Experts can built reputations
Payment is high and via our i3D Token
DASHBOARD LOGIN
Scores and Ranking of early stage start-ups scored by i3D Arena and i3D Rapid Experts
Upsilon Dry Powder Mining
Coming Soon!
Upsilon Dry Powder Mining is a

yield generating

fund that the i3D Protocol loans its proceeds to in order to generate passive yield and invest in alpha start-ups identified by the Swarms. It creates

Capital Preservation

and serves as a

floor price for the i3D Token
i3D Angel NFT
Smart Contracts allow validated Access Control to the data marketplace. The i3D Angel NFT ensures that only network participants have access to secured network reports.
For more information or to purchase your Access to Start-up Data click
here